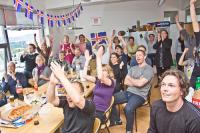 According to the Resident Register at the National Registry Office of Iceland, the population of Iceland was 319,368 on 1st January 2009, up from 315,459 a year earlier. That equates to a 1.2 percent increase over 12 months, mbl.is reports.
The figures on the national population on 1st January 2008 have been re-examined to harmonise with the re-calculated figures for migration in 2007, which were released by Statistics Iceland on 12th February. The re-calculated population on 1st January 2008 is actually 2,083 people higher than the figure reported at the time.
1,289 more people in East Iceland since 2003
The populations of all Icelandic regions increased in 2008, with the exception of East Iceland. The number of people in the East decreased by 1,153 to 12,849; but that still represents an increase of 1,238 people since 2003.
Sudurnes saw a 4.3 percent increase in 2008 and South Iceland's population went up by 2.1 percent.
63 percent of the nation now lives in the Reykjavik capital region: 201,251 people – an increase of 1.7 percent on the year before.
Westfjords residents increased by 49, making 2008 the first year since 1981 that the region's population did not decrease.