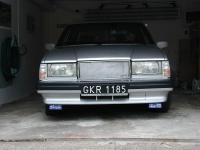 In a new survey just released, 68 percent of Swedes want to see the Swedish government bail out its beleaguered carmaker Volvo. Although Volvo is owned by US carmaker Ford, Swedes would like its government to temporarily take control of the nation's iconic firm, as many residents fear Volvo may disappear entirely from Sweden in the near future.
The Local newspaper reports that support for government intervention is piling in from all sides of the political arena. Some 65 percent of those polled who support the bailout side with one of the governing Alliance parties, and 73 percent of all left bloc voters approve of a government bailout.
Peter Larsson of the Swedish Association of Graduate Engineers points out that Volvo's current crisis is not minor. "One thing is certain, there are no dollars on their way over the Atlantic," Larsson said, referring to the massive problems currently faced by the "Big Three" US carmakers – Ford, Chrysler, and (Saab-owner) General Motors.
Rolf Wolff, dean of the school of business at Gothenburg University, told The Local: "If Volvo Cars disappears as a base for industrial knowledge and skills, then Sweden will never again be a part of the auto industry. All the knowledge and skills would be lost, and with it all future associated development potential would be gone."
Maud Olofsson, Sweden's minister of trade and industry, has expressed doubts whether the government would be able to better manage Volvo than the car firm itself. For now, the issue has been placed on the political back burner, but the crisis at Volvo and Ford goes on.