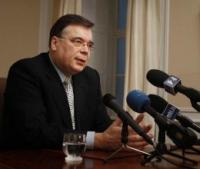 Bjorgvin G. Sigurdsson, the Minister of Trade, Thorgerdur Katrin Gunnarsdottir, the Minister of Education, Science and Culture, Arni Mathiesen, the Finance Minister and Ossur Skarphedinsson, the Minister of Industry have just left the venue where Geir H. Haarde, the Icelandic Prime Minister is leading negotiations with the representatives of the IMF.
Government opposition members are still sitting at the meeting.
It has been announced that the result of the negotiations will be released at a televised press conference at 2pm Icelandic time. According to IceNews sources, Iceland intends to accept substantial assistance from the IMF.