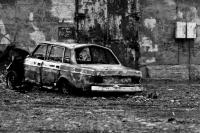 On the back of a previous announcement to lay off 2,900 staff earlier this year, Volvo has revealed it plans to make an additional 3,000 employees redundant. The latest round of cutbacks will affect 2,000 factory workers and 700 office staff in Sweden.
Stephen Odell, Volvo's chief executive, insists the layoffs are necessary to the survival of the beleaguered Swedish auto manufacturer. In a press release, Odell stated: "These are difficult times for the car industry in general, including Volvo. These actions are necessary to create a new and sustainable Volvo Car Corporation, a company with more focused operations and structure. The unstable economic environment has resulted in a very unpredictable situation, and the downturn in the global car industry is more drastic than expected."
The Local newspaper reported that outside Sweden, a further 600 employees will be terminated along with about 700 contracts with consultants. This is the second layoff announcement from Volvo since June, when it originally forecast lower layoff numbers. But the global financial crisis has changed everything, and the automaker has been forced to significantly increase its redundancies.
"Given the turbulence in the world economy over the last few weeks … it is clear that further costs saving actions are necessary for the company to manage the difficult market situation. The new organisation is expected to be in place by the end of the year," Volvo said in an official statement.