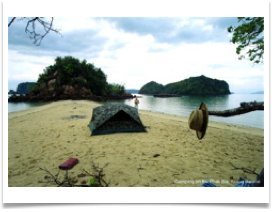 Andaman Camp and Cruise, a family-run travel agency which has been organizing tours in south Thailand for over five years, is now offering tours to the emerald green waters of the Hong Lagoon.
The Hong Lagoon is one of the most striking landmarks in the Krabi area of south Thailand. The lagoon is surrounded by tall cliffs and can only be reached through a narrow gap of water. The region is also host to a number of spectacular sandy beaches and some of the most remarkable seascapes in the world.
Travellers can enjoy swimming, kayaking, snorkelling and diving in the cascading fresh water pools of the lagoon, which is located on Hong Island in the Than Bokoranee National Park. Its beaches are ideal for picnic lunches, nature walks or just soaking up the atmosphere. There's also the chance to meet Peter, a giant monitor lizard who is king of the island.
The Hong Lagoon is teaming with various crab, starfish and shellfish species which live amongst its rocks. The lagoon echoes with the sounds of swifts and water birds, and as a tidal lagoon, it fills up at high tide and almost empties during the low tide cycle. It is also a safe port for local fishermen who often go there to relax in the heat of the day whilst they wait for their fishing traps to fill.
The huge cliffs, which enclose the lagoon into a cathedral-like space, are almost impossibly covered with plants that cling to the narrowest of ledges high in the salty air. The nearby mangrove area is ecologically very important as it provides a safe haven for fish to breed.
Andaman Camp & Cruise is a Krabi based travel agency that offers custom-made holidays for both individuals and groups. It offers a full range of daytrips and longer tours of Krabi and the Andaman sea region of southern Thailand.
Visit the website of Andaman Camp & Cruise for more information on custom-made tours to the Hong Lagoon.