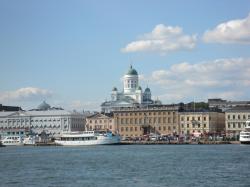 Two Estonians became the first people in recorded history to successfully swim across the Gulf of Finland. They started their effort in Finland and ended it in Estonia, taking nearly a full day to complete the swim.
Six Estonians with professional swimming experience, five men and one woman, made the attempt to cross the stretch of water between Estonia and Finland, but only two of them made it to the other side. Priit Vehm and Bruno Nopponen were successful in swimming the 55kms, Nopponen finished first with a time of 19 hours and 13 minutes, while Vehm took around 3 hours longer.
The swimmers began in the Finnish port of Porkkala and reached land in the Estonian village of Suurupi. Estonians followed the event in real time through the Internet, as each swimmer was wearing a GPS signal. Estonia is been nicknamed "E-Stonia" for its Internet knowledge.
Although there is no existing record of a successful swim across the Gulf of Finland, an Estonian named Aleksander Laas reportedly swam 40kms from an Estonian island to Porkkala in 1931. Up until 1991, the Gulf of Finland was one of the world's most heavily-patrolled bodies of water due to the proximity of Leningrad (St Petersburg) and the Soviet Union.