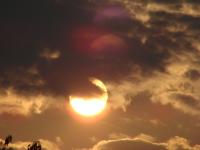 A partial solar eclipse will be visible in Iceland tomorrow, Friday 1st August.
In Reykjavik the eclipse will begin at 08.15 and end at 10.09, with maximum darkness at 09.11 when the shadow of the moon will cover 59% of the sun. The weather forecast is set to be good, with partial cloud cover.
A total eclipse of the sun will start in the lower part of Canada and travel via northern Greenland, Siberia, Mongolia and end in China.
The last partial eclipse in Iceland was on 29th March 2006 when only 5% of the sun was in shadow. Previously an eclipse in 2005 covered 50% of the sun and 65% in 1999.
The last annular eclipse was in Iceland in 2003 and the next will be in 2048. The next total eclipse of the sun in Iceland will be on 12th August 2026.
Information supplied by The Icelandic Meteorological Office.