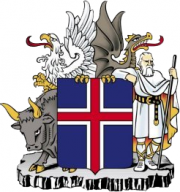 According to a recent forecast from the International Monetary Fund, Iceland's economic growth in 2008 will be higher than the IMF had predicted in its previous forecast from last year, reports Iceland Review.
Despite the severe economic slowdown currently facing world markets, the Icelandic economy is predicted to grow 0.4 percent in 2008, thus avoiding the recession some experts had predicted.
Although the forecast predicts slower growth for 2009, it states that Iceland will likely reach the average growth rate for industrialised nations again by 2012.
The current period of economic readjustment comes at the end of over a decade of unprecedented growth in Iceland, which has seen the island nation become one of the richest countries in the world per capita of population. Iceland currently ranks top of the United Nations Human Development Index, measuring countries' wealth and living standards.
Unemployment in Iceland is still below one percent, but a recent report by Nordic bank Glitnir stated that it could peak as high as four percent in 2009 – a rate still lower than many European countries at present.