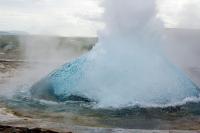 Geysir, the long-dormant geyser from which all others get their name, has come back to life following last week's major earthquake in southern Iceland.
The regular eruptions of the nearby Strokkur geyser are also reported to be much more powerful than usual.
It is not known how long the effect will last, but the changes are proving popular with visitors to the area – already Iceland's most famous tourist attraction.