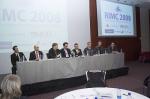 Around 300 people attended this year's RIMC Internet marketing conference held in Reykjavik, Iceland.
The annual event, which was held at the Hilton Reykjavik Nordica on Friday, saw a host of Icelandic and international speakers come to discuss the latest trends in Internet marketing.
Icelandic Minister of Commerce, Björgvin Sigurdarson, opened the one-day conference with the first speech, which was then followed by the head of IndexTools web analytics software, Dennis Mortensen.
This year's conference was held on the tenth anniversary of the founding of mbl.is – the online edition of the Icelandic national paper, Morgunbladid. Olafur Nielsen, expert from Morgunbladid's Internet department, addressed delegates on how the online publication has benefitted from using IndexTools analytics software for its website.
Delegates also got the opportunity to network with peers and meet some of the industry's leading figures in Internet marketing and advertising. An expo also took place alongside the conference, featuring a number of Icelandic businesses and their products and services.
The conference was organised by Morgunbladid in co-operation with Nordic eMarketing, a leading Internet marketing company in Scandinavia and the UK. Kristjan Mar Hauksson, Director of Nordic eMarketing, said he was very pleased with the increase in number of delegates and looked forward to "an even bigger event next year". He added that there was also a strong possibility of an Internet marketing event to be held in Mumbai, India later this year.