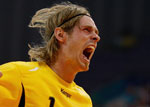 The Icelandic national handball team beat the Danish team this evening, thus coming top of Group B in the European Championship in Austria; the next team to meet the Icelandic will be Croatia or Russia.
Gudjon Valur Sigurdsson was Iceland's top scorer with seven goals, but the man of the match was the Icelandic goalkeeper Bjorgvin Pall Gustavsson who saved 17 shots and, with the help of the Icelandic defence, kept the Danish offence at bay.
After two draws against Serbia and Austria, Iceland finally found their form and seem ready to take on any team and go a long way in the European Championship this year.
The Icelandic goals:
Gudjón Valur Sigurdsson 6
Aron Pálmarsson 5
Róbert Gunnarsson 4
Alexander Petersson 4
Snorri Steinn Gudjónsson 3
Arnór Atlason 3
Sverre Jakobsson 1
Ólafur Stefánsson 1
Picture taken from zimbio.com