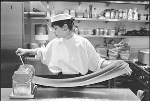 With the Iceland Airwaves music festival coming up this week and proving to be bigger than ever, the numerous restaurants and bars in the downtown Reykjavik area are preparing themselves for a busy and eventful week.
The whole city is gearing up ready for the October music festival, from hotels and hostels, to restaurants and bars, they are all preparing to host the thousands of music enthusiasts that flood the streets of Reykjavik every year.
Over the years, Iceland's capital city has never failed to deliver, feeding the festival's masses since it first began back in 1999 and earning itself a global reputation for hosting an array of outstanding restaurants that offer cuisines from almost every corner of the world.
However, a favourite with the locals is La Primavera, a contemporary restaurant, which favours influences of North Italian cooking combined with local, fresh Icelandic produce. Owned by Leifur, the Chef, and his wife Jonina, the maitre d', La Primavera is a laid back, yet smart restaurant. The lunch menu is simple and surprisingly affordable, always providing the freshest ingredients, and not to mention the best possible fish – or as the world renowned chef and restaurant owner Jamie Oliver once described it, "The most amazing, freshest fish I've ever had in my life. It was all so perfectly cooked too. Beautiful."
The unique menu features homemade pastas, risotto, gnocchi, polenta and a wide variety of the freshest vegetables, poultry, meat and game available. As a whole, the menu, the atmosphere and the comprehensive, exclusively Italian wine list has indeed proven La Primavera to be a classic in Reykjavik, still understated, still simple and above all still very, very yummy!
For more information or to book a reservation visit www.laprimavera.is or send an e-mail to laprimavera@laprimsvera.is
(Advertisement)