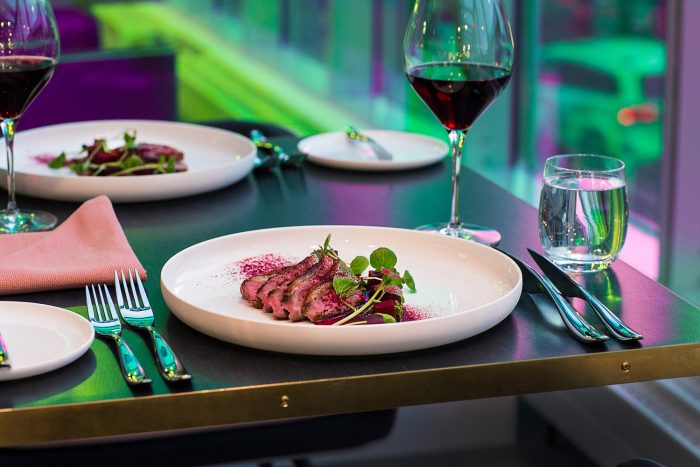 What is the best fine dining restaurant in Reykjavík? It is a hard question to answer but Nostra restaurant, situated on the first floor of a small shopping centre on Laugavegur in downtown Reykjavík, is one of Reykjavík's best-kept secrets – but not for long.
The restaurant, which boasts a 4, 6 and eight plate set menus, as well as vegan and vegetarian options, includes ingredients that are locally sourced in Iceland in a sustainable and socially responsible manner.
Apart from growing their own micro grain, they travel the country during the summer months sourcing Icelandic ingredients to make their dishes extra special. Creeping thyme, sea truffles a form of red algae, salmon belly, Icelandic goat cheese and goat hearts are just a few of the many local ingredients they use.
Einar B. Guðnýjarson, one of Nostra's chefs, says they try to stand out from the lively Reykjavík food scene. "We use ingredients and cooking methods that aren't common, as well as offering first class service of course." Einar is a chef de cuisine, and after graduation in 2011, he has, for example, worked as a sous-chef at Bryggargatan in Sweden as well as a sous-chef in Iceland's only Michelin star restaurant, Dill.
As a part of their sustainability, they try to throw away as little as they can. "Last summer we used second class strawberries, those that are too "ugly" to sell in stores and marinated them in a fermented strawberry juice. Then we made strawberry sorbet and sabayon from grilled strawberry juice which we froze with nitrogen," Einar said.
As far as being the best restaurant in town, Nostra is at least one of the most original and sustainable fine dining restaurants in town. Guests also agree since they consistently give it 5-star reviews.