Hotel and day tour prices in Iceland have risen for the past few years. Meanwhile, self-drive tours and campervan trips have been getting increasingly popular. Many travelers choose to stay in Reykjavík and go on day tours from there. Others go as far as driving a circle around Iceland. Either way, renting a car or a campervan seems to be the way to go.
According to Þorsteinn Þorsteinsson, the owner of Blue car rental in Iceland, travelers are becoming better informed of exciting driving routes. Much more so than they were a few years ago. "Most of them come well prepared and know exactly what type of vehicle they need. Some don't like to plan ahead too much and we're always happy to give them advice on what not to miss."
Þorsteinn says that people who're going on self-drive trips in Iceland should give some thought to which type of vehicle they rent. "If they're driving the most popular routes or the ring road in the summer, they should be fine with a smaller 2WD vehicle. If they plan on driving on dirt roads, cross rivers or drive across the highlands, they need something bigger and more versatile. The F-roads can actually be dangerous and are not open all year so we recommend that people check the F-road opening schedule on our website," Þorsteinn says.
Driving in Iceland in the winter time is a whole different story. With the weather changing, icy roads and fickle conditions, a 4WD car is usually recommended. They're not always necessary but it's difficult to know in advance if you need one. Some travelers aren't experienced in driving in winter conditions, which can be quite tricky. "Experience shows that a 4WD is always the safer choice for a self-drive trip in our ever-changing winter conditions."
Following the law of supply and demand, hotel prices in Iceland have risen rapidly. Some say excessively. Travelers who want to experience Iceland without parting with too much of their hard-earned cash have discovered the convenience of campervans.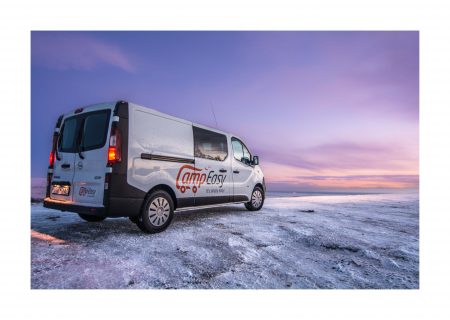 Arnór Hauksson, the general manager of CampEasy campervan rental service in Iceland says it's no surprise that campervans are popular with tourists. "Lots of people actually prefer this way of traveling. It's easier and more comfortable than camping in a tent. People have more freedom to explore Iceland on their own time schedule. And since the hotels are mostly packed, people need to book them well in advance. That limits them somewhat."
With better-quality campervans, people can camp in the wintertime. "A few years back none of the campsites would be open during the winter but that has changed. Our cars are built specifically to withstand the elements and keep our customers warm at night. People love the adventure," Arnór says.