Everybody seems to be doing the "HUH", you can now find videos from elderly peoples homes, to priests at their mass's to TV broadcasters, music bands playing at concerts and even the Wales team got their supporters to to a "HUH" or two.  Norwegian papers keep pushing the Icelandic team, the some goes with media in other Nordic countries and it looks like Iceland has massive support as the team that has shown that you do not have to be the biggest, with the most expensive team or most ball position to be a winner.
"It was crazy to see Gareth Bale led his team-mates into the signature Icelandic 'Huh' chant" said one Icelander watching the Wales – Belgium match.
Everybody us doing the HUH – Lets hope it works tonight against France
Here you can see the Swedish TV2 channel get people to do the HUH chant and on the front page of VG Sporten in Norway they simply say  "Tonight we are all Icelandic".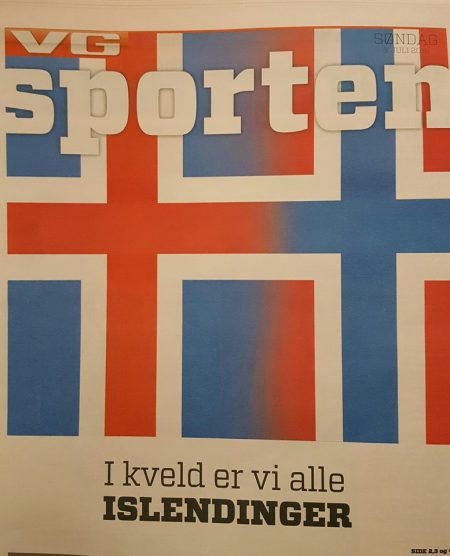 Amazing game with amazing fans! The Iceland support was incredible! You know how to do your country proud! @EURO2016pic.twitter.com/IyXLa9MqJe

— Dewsey (@Dewsey16) June 15, 2016
Áfram Ísland!