Quite a severe storm hit the island last night and not with out consciences. Roofs were torn of buildings and blown out to see while empty containers loosened and shifted around a container lot in the town of Sauðárkrókur which seems to have been hit the hardest. The lot at the local cement supplier looks like it has been bombed according to a report by the National broadcasting service.
In Keflavik airport roughly 2000 passengers were made to wait on board airliners while the wind was too strong to attach passenger embarkation bridges. All passengers were safely in the terminal around 1 am according to a report by Morgunblaðið.
Among the stranded passengers was the rap collective Reykjavikurdætur (The daughters of Reykjavik) on their way home from tour. Steiney Skúladóttir, member of the collective says they waited just over an hour, time passed quickly, she used the time to brush up on the series Trapped and tweeted "Reykjavíkurdætur are stuck on an airplain at kefairport due to weather. This time no one will be able to walk out! Hahahaha!"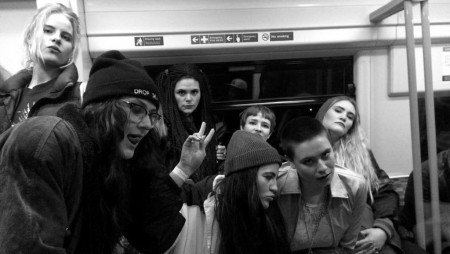 Image from Twitter, Reykjavíkurdætur safe on the bus to the terminal building last night.
In the comment she pokes fun at recent events when actress Ágústa Eva Erlendstóttir stormed of the set of a talk show during a provocative performance by Reykjavíkurdætur promptly stirring up a debate about feminism in Icelandic media.
The weather is calming down, there is still strong wind but slowly reducing and the weather will be stiller again in the afternoon, while there are still predictions of some seriously of slippery roads and walkways as the Icelandic Met Office warns of severe thawing, so travel carefully.