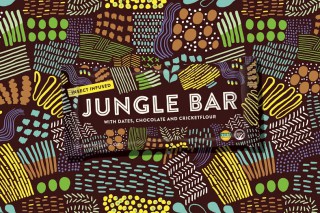 Last summer, Icenews reported on Búi Bjarmar Aðalsteinsson and Stefán Atli Thoroddsen, two entrepreneurs from Iceland, who founded Crowbar Protein, a startup company that produces protein bars made with sustainable and protein-rich edible insects. After months of preparation and development of their first product, the company has launched Jungle Bar, the insect powered protein bar on Kickstarter.
Jungle Bar is a normal looking protein bar, made from dates, all sorts of seeds, chocolate and cricket flour, the special insect ingredient. Cricket flour is made out of nutritious crickets which have been specially farmed for human consumption in a very sustainable way. These crickets are dried and ground down to fine flour, which is mixed with the other ingredients to make the final product. Cricket flour is full of protein, minerals, vitamins and other essential nutrients which Stefán says is "a perfect ingredient for Jungle Bar".
But insects are a an uncommon food source for people in the western world. The big question is, will the "average Joe" want to consume insect infused foods? Stefán thinks so: "People come up to us, see our products and are skeptical at first. Interested but sceptical, and they have every right to be! Edible insects are yet to become a norm in our food culture, so one of our main objectives with Jungle Bar is not only creating a delicious product, but also to educate people about the benefits of eating insects." and Thoroddsen continues "edible insects are for sure a part of the future for food security here on earth".
Jungle Bar is up for sale on Kickstarter, where Crowbar Protein seeks to fund the first production batch for its product.