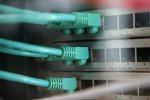 A higher percentage of people use the internet in Iceland than in any other European nation, according to recent data.
Ninety-seven per cent of Iceland's population of roughly 325,000 used the internet on a regular basis in 2014, more than was recorded in any other country in Europe, Statistics Iceland revealed in data published in Friday.
The figures showed that internet usage in the North Atlantic island increased by nearly two per cent compared to the previous year. Meanwhile, among European Union countries, the average proportion of regular internet users was at three-quarters, or 75 per cent, of the population.
The survey revealed that 58.9 per cent of internet users in Iceland used their smartphones or mobile phones to access the internet in 2014, an 11.4 per cent rise on the previous year. There was also a significant increase in the number of people using E-commerce last year, with 67 per cent of Iceland's internet users having bought something online in 2014.
Meanwhile, a third of the country's businesses received online orders in 2013, the survey showed.