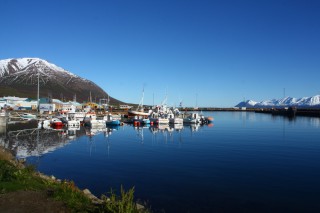 An Icelandic man who lost his wedding ring shortly after marrying got the shock of his life when it was returned just before his 65th wedding anniversary.
Ninety-year-old Oskar Jonsson, from the northern Icelandic village of Dalvik, lost his wedding ring not long after marrying Elin Sigurðardóttir, 85. He was always of the belief that it fell off when he was clearing the snowy roads. However, as he has now discovered, he actually took it off while working in his garage and put it on top of a ruler.
It turns out that the ruler had dropped behind the table and Mr Jonsson returned to his house without thinking twice about it. When he eventually realised it was lost, he thought it must have happened out on the roads, so considered it gone for good.
But 64 years later the new owner of the house, Brynjar Aðalsteinsson, decided the garage was in desperate need of a cleanout. He explained that one of the boys clearing the place out found the ruler with the ring on it and showed him it. He said that when he saw it was inscribed with "Your Elin", he soon realised it was most likely a wedding ring.
Mr Aðalsteinsson said he informed the local jewelers and even put a message on Facebook, before someone indicated that it might have belonged to Mrs Sigurðardóttir.
Mr Jonsson said he was shocked when the ring was returned, explaining that he had planned to buy his wife a ring to celebrate their anniversary last November but was poorly at the time so put his plans on hold.
He noted that the ring appeared just as it was when he last wore it, but pointed out that he would now have to wear it on a different finger as he lost his ring finger in a saw accident not long after he lost the ring.