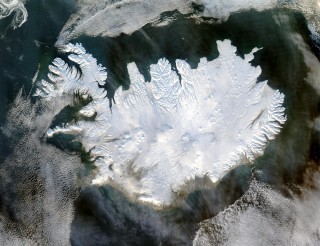 Iceland's expanding lava field is now the biggest the country has seen in more than two centuries, revealed NASA's Earth Observatory.
The lava flow from the Holuhraun lava field is now bigger than Manhattan island, with huge deposits of lava having flowed from a fissure that erupted in August last year at the largely uninhabited Barðarbunga volcanic region.
In the six months since the flow began, it has spread 32 square miles, meaning, according to official data, it is now the country's biggest lava flow since the Laki eruption killed a fifth of Iceland's population in 1783-84.
The University of Iceland's Institute of Earth Sciences has said that the centre and western areas of the field were now 40 feet think, while the eastern region was 30 feet think.
NASA's Adam Voiland explained that while lava and sulphur dioxide continue to flow from Holuhraun, some observations indicate that the eruption could be slowing down. However, he noted that this did not mean it was likely the eruption was set to stop anytime in the near future.
He explained that just as an aerosol can weakens, an eruption rate slows exponentially, adding that "the lower the flow, the more slowly it declines."