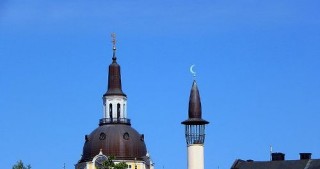 Anti-racism campaigners in the Swedish capital Stockholm have staged a demonstration after three arson attacks were carried out on mosques around the country.
A mosque in the eastern town of Eskilstuna was attacked in December, injuring five people, while later that month a mosque in the southern town of Esloev was set on fire. Then, on New Year's Day, yet another mosque, this time in the eastern city of Uppsala, survived any serious damage after a petrol bomb was thrown at it.
Now angry Swedes have taken to the streets to show their disgust at the attacks, with protesters in Stockholm holding up signs saying "Don't touch my mosque" as they stood outside the parliament building. Anti-racism demonstrations also took place in Gothenburg and Malmo on Friday.
Swedish Culture Minister Alice Bah Kuhnke has announced that the government would be staging an initiative aimed at combating the rising level of Islamophobia in the Scandinavian country. She explained that they wanted to curb prejudice and educate people about Islam.
Following the 1 January incident, many Uppsala residents have stuck red love hearts on the entrance to the mosque in Uppsala but, despite police efforts, those responsible for the attack have not been tracked down.
Bah Kuhnke told demonstrators in Stockholm that the attacks were carried out to "intimidate and diminish" people, but added that security at mosques was to be beefed up in the immediate future. She insisted that it was important not to be intimated by the attacks.