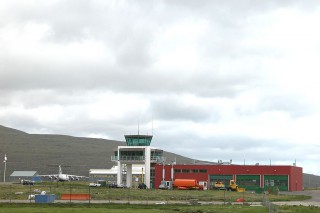 The Faroe Islands' national airport enjoyed a six per cent increase in passenger numbers in 2014, with a record 250,287 passing through the gates.
In 2011, Vagar Airport's runway was extended from 1,250 metres to 1,799 metres, while state-of-the-art navigational instruments were added. Since then, the Faroese have seen a considerable increase in number of people flying in and out of the country, with its regularity percentage now at 99.3 per cent.
The only carrier that regularly flies in and out of the Faroese is the national airline, Atlantic Airways, which currently has three Airbus A319s flying to a number of European destinations such as the UK, Spain, Italy, Greenland and the Nordics.
Airport authorities now say they are ready to set more records in the coming years after a new terminal and service buildings were added in June, ensuring travellers were offered greater comforts.
Vagar Airport CEO Jakup Sverri Kass said that as the country was not an EU member, tax-free revenue was a crucial part of the airport's revenue base. He pointed out that the Faroe Islands had great potential due to the fact it was relatively "unexplored", noting that both business and leisure travellers should see the attraction of it in the years ahead.
The Faroe Islands' government doubled the amount of funds it injected to the islands' main tourism board, Visit Faroe Islands, in 2012 as well as reducing government tax on airline tickets. With a strong economy and a high demand among business and leisure travellers to boot, Vagar Airport is likely to see passenger numbers increase further in the future.