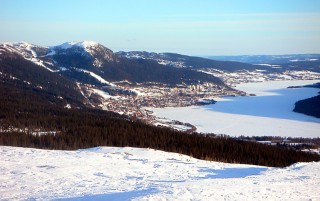 Many skiing and snowboarding enthusiasts in Sweden have taken to the slopes for the first time this season, as snow covers mountains in the west and south of the country.
A cold snap over the Christmas period saw snow settling across Sweden, with a number of slopes now able to switch on their chairlifts and allow skiers on.
Elisabet Jansson Stromberg, the CEO of the country's biggest ski lift company, noted that this ski season was likely to be "extra long", pointing out that mountains in Malardalen and Smaland in the west were now almost entirely covered in snow.
Meanwhile, Jarvsobacken Resort CEO Peter Augustusson boasted that there was a "fantastic" winter landscape at present, adding that it could boost the region's whole economy. He explained that the Christmas holidays were extremely important for business as so many people were off work and school so were able to spend time on the mountains.
Around 75 per cent of slopes have opened in the western region of Varmland, with Anders Kjallstrom, the CEO of the Branas group that operates five facilities in the area, describing the situation as "great", adding that more slopes were being opened all the time.
The manmade ski slope in the capital Stockholm, Hammarbybacken, has yet to open, but plenty snow has fallen on it over the past week and snow cannons have already begun firing out artificial snow to top it up.
It's nothing new in northern Sweden, however, as slopes in the resorts of Salen, Are and Vemdalen have been open since November.