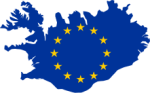 Iceland Prime Minister Sigmundur David Gunnlaugsson has reportedly said that his country is no longer involved in talks to join the European Union.
Gunnlaugsson has been quoted as saying talks to join the union were no longer really valid because of two reasons: it was not the government's policy to accept what the last government was campaigning for, and because there had been several changes within the EU.
The North Atlantic nation's government is now expected to try and revoke its EU application for the second time. Gunnlaugsson's government made its first attempt to withdraw its bid to join the bloc early in 2014, which was met with anger among pro-EU campaigners in Reykjavik.
Icelandic Foreign Affairs Committee chairman Birgir Armannsson admitted on Monday that it would not be a surprise if Gunnlaugsson presented a new parliamentary proposal to withdraw the EU membership application.
The country applied to join the bloc in 2009 and formal negotiations got underway the following year. However, the current centre-right government was elected in 2013 on the promise that it would revoke the bid. At present, Iceland is a member of the European Free Trade Association, the European Economic Area and is in the Schengen Area.