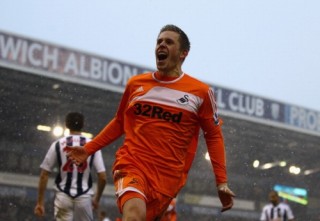 Swansea City manager Gary Monk has said that Icelandic midfielder Gylfi Sigurdsson may end up wanting to play for a Champions League club, but insisted he was focused on his work with the Welsh side at present.
The 25-year-old has earned rave reviews for his performances in the first half of the season after a relatively unsuccessful season at Tottenham. After spending six months on loan at Swansea in the 2012-13 season, Sigurdsson returned to the Liberty Stadium in the summer, signing a four-year contract.
However, Monk admitted that all players dream of playing for bigger clubs and performing in the Champions League, noting that if there was not that dream there would be nothing to play for. He said that the Icelandic international was currently at a great club and enjoying his football, so he was in no rush to leave, adding that his biggest focus was on Swansea.
Swansea, who lost 2-1 to Sigurdsson's former club Tottenham on Sunday, have enjoyed a strong start to the season and sit in ninth position in the English Premiership. The Icelander has played a pivotal role for his club, scoring three goals and clocking up the most distance covered by any player in the league.