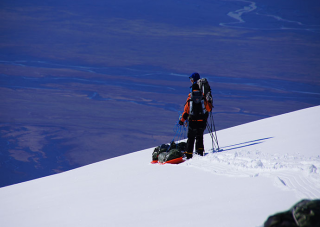 For the brave explorer looking to experience something new in 2015, a cross-country skiing expedition across Iceland's Vatnajökull glacier might be the perfect adventure.
TREK is offering a nine-day cross-country skiing expedition across the Vatnajökull glacier, Iceland's largest glacier. The trip roughly covers 150km from the western edge of the glacier to the south side.
As part of the trek, travellers will pass by the Grímsvötn volcano before descending towards Öræfajökull, the ice-covered volcano, then on to climbing Iceland's highest summit Hvannadalshnúkur – this popular route has a summit at an altitude of 2110m.
During the trip, travellers will be sleeping under the stars on the glacier, as well as the geothermal heated hut on Grímsfjall.
It has been noted that crossing Vatnajökull is often used as practice for bigger expeditions because it is a demanding, yet rewarding trip.
TREK provides experienced guides and quality equipment to ensure a safe traveling experience.
For the full itinerary of the expedition, click here.