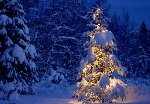 Once popular all across Europe, Norwegian Christmas trees have seen their popularity on the continent slump in recent years, with sales hitting rock bottom.
Christmas tree researcher Jan Ole Skage from the Norwegian Forest and Landscape Institute said that conifers from the Scandinavian nation were in huge demand in 2009, with roughly 95,000 being exported. This brought the country more than eight million kroner. However, he revealed that last year the number of trees sold to other countries had slumped to a meagre 1,000, bringing in just 200,000 kroner.
Skage explained that the main factors for the fall in demand were the ongoing financial crisis coupled with Christmas trees being offered at lower prices across Europe. On a brighter note, he said that the fact Christmas tree producers had not targeted the foreign consumer as much in recent years had led to them seeing increased sales in their homeland over the same period.
He estimated that Norwegians would purchase 1.9 million Christmas trees this festive season. Around 20 per cent of those will be imported, with the majority coming from nearby Denmark.