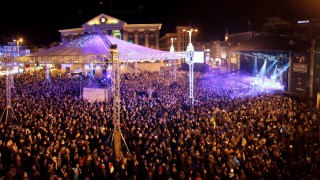 Eighteen Icelandic musicians, ranging from pop to electronica to Viking metal, will be performing at the Eurosonic Noorderslag festival in the Netherlands next year.
Under the banner "Iceland Erupts", the North Atlantic nation is the focus country at the 29th Eurosonic Noorderslag, which will be held in Groningen from 14-17 January.
Iceland Music Export Managing Director Sigtryggur Baldursson noted that the festival offers Iceland a unique opportunity to tell its remarkable recent musical story and allows the musicians the chance to show others where the country's music is going in the future. He said that these "exciting times" will hopefully show the "diversity" of the Icelandic acts and open a new chapter in terms of international audiences.
The latests acts that have been announced are: Solstafir, Ensemble, Tonik, Obo, Fufanu, Skalmold, Young Karin, Ylja, Arstiðir, M-Band and dj. Flugvel og geimskip. They join the already announced acts of Soley, Junius Meyvant, Low Roar, Kiasmos, Samaris, Vok, Rokkurro and Kaleo.
There was a more than two-fold increase in the number of Icelandic musicians performing overseas between 2012 and 2013, and as the focus country at Eurosonic Noorderslag, Icelandic innovation, movie industry, food, and technology will all be showcased at the event. There will also be panels and presentations on the country's recent musical history as well as the economic impact of cultural tourism and the Iceland Airwaves festival.