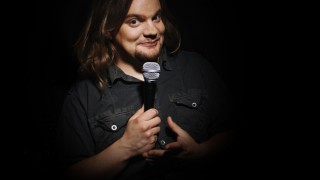 Finnish comic Ismo Leikola has been won the Funniest Person in the World after seeing off four other finalists in Las Vegas.
Leikola qualified from the semi-finals at the Laugh Factory in Hollywood after perfectly delivering a joke about the current state of the global economy.
Noting that countries don't owe each other money but rather owe banks money, the Finn said that they were stupid to even consider paying their debts back because a country has an army but a bank has just four cashiers and a cleaning lady.
That got the night's biggest laugh and from there he qualified for Friday's five-person final at the Laugh Factory in Vegas. The comedy battle was streamed live over the internet and on Monday, after all the votes had been counted, Leikola, with 158,945 votes, came first ahead of Pakistan's Saad Haroon on 59,213 votes.
The top five was completed by France's Mustapha El Atrassi, Nitin Mirani of UAE and Spain's Archie Bezos.
The competition was dreamt up by Jamie Masada, the owner of Laugh Factory, and he now intends to make it a yearly event. He revealed that he aims to show the world that people of different nationalities can get along together if they laugh with one and other.
After dozens of entrants from comics from all across the globe, online voters selected the 10 semifinalists, then it was narrowed down to five for the final in Las Vegas.
As for Leikola, well he walks away with $10,000 and his own national comedy tour.