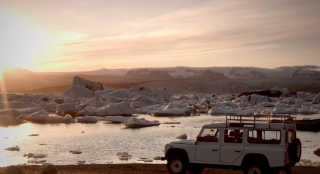 Have you ever experienced driving in Iceland during the wonders of winter? Well, as temperatures drop, the levels of enjoyment increase, especially on clear and crisp days. A new series of videos on YouTube encapsulates the essence of winter driving in Iceland.
The video series by Tjarnargatan features a number of videos showcasing various locations across the country, each with their own unique characteristics – these include Jökulsárlón, Reykjavík, Bláfjöll, and Kleifarvatn.
On clear and crisp days, the low winter sun illuminates the sky; turning the white, snow covered mountains into shades of orange and burnt red. This video shot at Bláfjöll is a perfect example of just how magical driving on Iceland's roads can get. The protagonist is seen driving a 4×4 vehicle rental car by Avis/Budget along the winding roads, cutting through the powdery snow plains.
In contrast, a different video within the same series takes the viewer on a journey through the streets of Reykjavík, exploring the city's urban gallery, featuring a plethora of Reykjavík's beautiful graffiti sprayed up the city's concrete mountains.
The series was produced on behalf of Avis/Budget Car Rental, who wanted to create an inspiring content marketing campaign.
Tjarnargatan is a company specialising in media production, content creation, graphics, adverts, and animation. The company was awarded Public Safety Campaign of the Year 2013 by The Icelandic Marketing Association (ÍMARK).