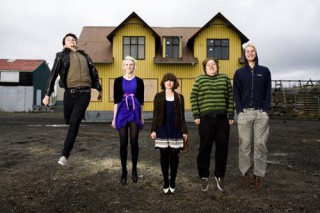 Reykjavik band Rökkurró have announced that they will release their new album before playing at the Iceland Airwaves Festival in November.
The album, Innra, will be their follow-up to the hugely successful I Annan Heim, which remained in Iceland's Top 30 chart for an incredible 100 weeks and gained praise in both the US and Europe.
Since then, the band have added a new bassist and pianist, which has led to Innra being recorded in both English and Icelandic. Helgi Hrafn Jonsson came to help with the producing, and got high praise for his work. The band's Stefansdottir described his ideas as "fresh" and said it was important to the group that he chooses who he works with carefully. He added that they soon realised they shared a common vision for the project.
The band spoke about their new English influence, particularly in the track Killing Time, which Stefansdottir said has more electronic elements, adding that he has replaced his cello with a synthesiser. Two other tracks from the album, Blue Skies and The Backbone, have also been released in English.
Innra is to be released on 27 October, while the group will also partake in a mini tour. They will play at the Iceland Airwaves Festival in Reykjavik on 6 and 9 November, before performing at Eurosonic Noorderslag in Groningen, the Netherlands; So What, Gouda, the Netherlands; Roter Salon in Berlin, Germany; and Pod Minoga in Poznan, Poland.