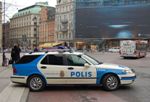 Police in northern Sweden have detained two suspected nappy smugglers after they were caught with more than 25,000 nappies.
Jamtland police officers stopped the two men, said to be in their 40s and 20s, as they passed through the town in their foreign registered vehicle. Upon checking inside, they discovered 25,179 nappies that had been purchased in Norway.
The pair, who are from Lithuania, were arrested and taken to Ostersund police station for questioning. The alleged smugglers were thought to be heading to eastern Europe with their haul.
Jamtland police's Stefan Fredriksson said they had not reported to customs that they were transporting the nappies across the Norway-Sweden border, which is something you are required to do as there are duty fees to pay.
Although Norway is known for its high cost of living, nappies are relatively cheap and, for example, can cost eight times as much in Poland. Nappy smuggling has become a big business because of this price difference, and a number of arrests have been made in the past 12 months.
A Jamtland police spokesman explained that the two suspects purchased the nappies at separate stores in Norway in order to avoid drawing attention to themselves. He added that the way the men behaved during interrogation indicated it was a very well organised operation.