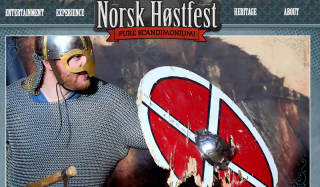 The North Dakota town of Minot is to showcase Scandinavian culture and heritage this week at the 37th Norsk Hostfest.
The annual event, said to be North America's largest Scandinavian festival, draws around 60,000 visitors from all over the world each year as people flock to enjoy the music, food and other entertainment on offer from Iceland, Sweden, Denmark, Finland and Norway.
Hostfest's executive director Pam Davy pointed out that they bring 15 chefs over from Scandinavia, and many people come for the "phenomenal" food on offer.
The nonprofit festival, which first took place in 1978, starts on Tuesday and runs until Saturday and is staged at the North Dakota State Fairgrounds.
Each Nordic country is represented in one of five halls, which are named after the respective nation's capital city. Minot's Scandinavian Heritage Park is said to be the world's only park to represent all five countries.
Another feature of the festival is the yearly inductions into the Scandinavian-American Hall of Fame. Among this year's entrants are musician Bobby Vee, Tonight Show bandleader Doc Severinsen and TV show Deadliest Catch's star and technical advisor Sig Hansen. The three, along with the other honourees, will be inducted at a ceremony on Wednesday.
Among the other notable figures who have been inducted in previous years are astronaut Buzz Aldrin, White House political advisor Karl Rove, aviator Charles Lindbergh and puppeteer Jim Henson.