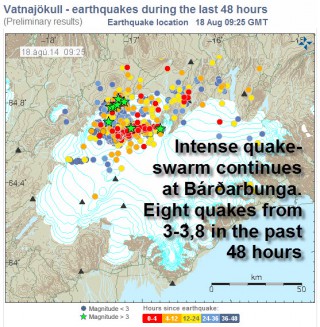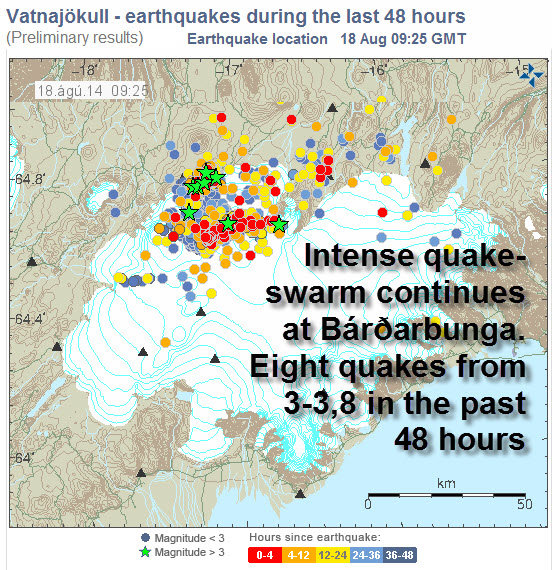 At 11:20 UTC today, seismic tremor measurements gave a strong indication that an eruption beneath Dyngjujökull was occurring. Tremor levels decreased during the afternoon, although intense earthquake activity continues.
At 14:00 UTC, an over-flight was made to Bárðarbunga by the Icelandic Coastguard with scientists from the Icelandic Meteorological Office and the University of Iceland, in addition to a representative from the National Commissioner of the Icelandic Police.
The over-flight covered the north-western region of the Vatnajökull ice-cap in clear conditions. Both visual observations and radar measurements confirmed no significant changes on the surface of Vatnajökull. Likewise, there were no signs of floodwater draining from the ice margin.
During three hours of aerial surveillance, there were no obvious signs of volcanic activity.
In light of the intense, ongoing earthquake activity and crustal deformation at Bárðarbunga, the Icelandic Meteorological Office has decided that the aviation color-code should remain 'red'.  The situation will be reassessed tomorrow morning.
The National Commissioner of the Icelandic Police in collaboration with the District Commissioners of Police in Húsavík and Seyðisfjörður has decided that the emergency phase will stay in effect. The decision will be evaluated at noon tomorrow, 24 August.