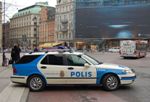 In an unusual turn of events, two children, whom had been missing since Saturday afternoon, were found safe and sound locked inside the Kfem Shopping Centre, Stockholm, Sweden, on Sunday afternoon.
According to Stockholm police's Lars Byström, the children went into a room and a door with a handle missing slammed shut, therefore they could not get out.
Roughly 80 volunteers from the organization Missing People took part in the search for the children before they were found. Kfem Shopping Centre was one of the first places to be searched, despite offering no leads initially.
"We then found them when we searched again. All's well that ends well," said Byström.