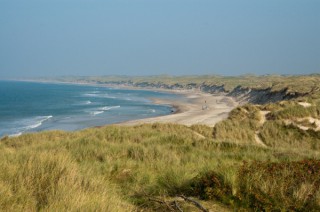 Denmark has opened its first ever sea pool in Nørre Vorupør in northern Jutland, meaning people can enjoy swimming in the sea in safer conditions.
Vesterhavet, the name given to the North Sea area around this region of Denmark, has been a tourist trap for many a year; however, high waves and dangerous rip currents have made taking a dip in the sea quite dangerous.
The new 50 x 50 sea pool, which opened on Saturday, is similar to Copenhagen's Islands Brygge Harbour Bath, but instead backs out onto a beach. A wall fitted with hatchets stops waves getting in but allows fresh sea water to flow in. At the back end of the pool is a beach, while there are promenades along the three other sides.
The local council believes that the pool can attract more tourists and greater investment to the area. The official opening of the pool is not till 15 August, meaning those that swim in it in the coming weeks may have to put up with eyesores such as steel fences and bulldozers.