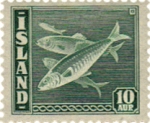 Iceland's fishing industry can look forward to a bright future despite the challenges it faces, according to a senior fishing executive.
Iceland Fishing Vessel Owners Federation (LIU) chief executive Kolbein Árnason revealed stocks are plentiful, investment is returning and the management is confident about the future.
He said they're delighted the industry is performing well, but acknowledged that there are still certain differences with the government, particularly regarding licence fees. He stressed that they must resolve these issues to enable them to focus on growth and new opportunities.
Kolbein said the most important thing on the agenda now is to work alongside the government to create a system for fishing fees that does not have a negative impact on the industry as it is one of the economy's most important pillars. He noted that everyone is of the opinion that the industry needs the opportunity to thrive so it is important to be careful about legislations that can affect fishing in Iceland.
He spoke of the importance of having a constructive and positive attitude when it comes to enhancing the fishing industry, and said he is hopeful when catching fees are agreed that future arguments will be prevented.