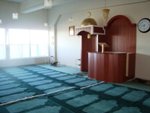 Leaders of the Dansk Folkeparti have said there are enough Muslims living in Denmark and the government should put border patrols in place to ensure no more are allowed to enter.
The defence spokesman for the party, Marie Krarup, said now is the time to halt Muslim immigration completely. He claimed that the size of the Muslim minority in the Scandinavian country should be limited. The party's Anders Vistisen, second on its list of European Parliament candidates, agreed.
Meanwhile, DF citizenship spokesman Christian Langbelle admitted that it would not be possible to put a complete ban on Muslims in place, describing it as "impractical", but agreed that Muslim immigration should be limited.
The deputy head of the party, Soren Espersen, said calls by local DF politician Holger Gorm Petersen to turn Muslims away at the border were "stupid and silly", but claimed that many Danes, particularly those living in the rural areas of the country, feel uneasy about the number of Muslims entering Denmark.
He said that they see England, France, Germany and Sweden and do not want their country to turn out that way. Espersen said he was fine with the religion of Islam, but was strongly against it as a political system.
Party leader Kristian Thulesen Dahl refused to comment on statements made by his DF members.