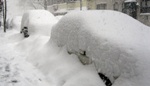 A 90-year-old Danish man survived eight hours in freezing conditions after getting lost in a snowstorm in Hjallerup, northern Jutland, on Saturday.
When the man's wife became worried that he hadn't returned home she called out local police, who got stuck in the heavy snow and were forced to continue their search on foot.
However, the officers soon found the man lying next to his car around 300 metres from his farm. He was unable to get to his feet without their help and was suffering from frostbite.
The officers carried the man home but were dealt a further blow when they received a call informing them that the ambulance was unable to make it through the snowdrifts. Eventually, the hospital sent out a four-wheel drive vehicle to transport the man to where he could be treated.
The police said the man had spent around eight hours in the snow. Nordjyllands Politi spokesman Per Jorgesen revealed that the man is back on his feet and making a rapid recovery.