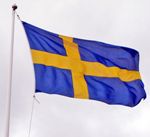 Despite the sub-zero temperatures in Stockholm on Sunday, a number locals took part in the annual 'No Pants Subway Ride'.
The day, which has no real significance apart from just being a bit of fun, sees travellers ditch their pants before taking the subway.
Organiser Betty Jarra said around 65 people partook at first and another two joined in when it was explained to them what was happening. She said that when the participants got on the train, a couple more people decided to join in the fun.
The idea started when a New York-based art group came up with a comedy performance dubbed Improv Everywhere. The event was later created in 2002, but it was not until 2007 that it became a global trend. It first hit the Swedish capital in 2009.
Temperatures in Stockholm plummeted to -10C on Sunday; it was also snowing outside. Jarra noted that some commuters were so confused by others walking on in their underwear that they thought it was a protest.
However, Jarra said that it is purely a fun event, nothing political, whereby participants try to raise a smile out of fellow travellers. She said when they finished and took a group photo, around 20 other people got their cameras out to capture the moment. She added that some even said they wanted to take part next year.