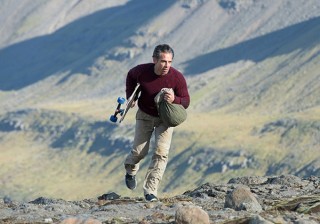 Upcoming fantasy drama film The Secret Life of Walter Mitty, starring Ben Stiller, will be showcasing various picturesque locations across Iceland with its worldwide release this Christmas.
The Secret Life of Walter Mitty is a 2013-adaptation of James Thurber's 1939 short story of the same name, and follows "a timid magazine reporter who lives life vicariously through daydreams, who embarks on a true-life adventure when a negative goes missing," as stated by IMDB.com.
During the filming of The Secret Life of Walter Mitty, Ben Stiller and the crew travelled to seven locations in Iceland, some unknown to most visiting the country.
Icelandic media reported that locations in the film included Seyðisfjörður in East Iceland; the Stykkishólmur village on the Snæfellsnes peninsula in the West; and at the coast of Garður on Reykjanes Peninsula in Southwest Iceland.
It was reported that Ben Stiller spent five weeks in Iceland filming what has been announced as the most extensive foreign film project in the country for 2013 – according to ruv.is, 250 Icelanders worked on the project.
Ólafur Darri Ólafsson, the Icelandic actor who recently starred in Baltasar Kormákur's The Deep, also played a major role in the movie.
Tour provider in Iceland Reykjavik Excursions is offering a tour that gives both fans of the film and fans of Iceland a chance to explore the various locations seen in the motion picture.
(The Secret Life of Walter Mitty photo: Twentieth Century Fox)