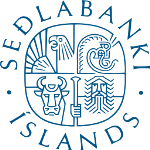 Iceland's central bank has kept its key interest rate at six per cent for the ninth rate-setting session in a row, citing low inflation and solid economic growth.
Seðlabanki's Monetary Policy Committee (MPC) opted to leave the seven-day collateralised lending rate unchanged once again, and it is now more than a year (November 2012) since they last introduced a rate increase.
The overnight lending rate was also held at seven per cent, while the current account rate was maintained at five per cent and the 28-day certificates of deposit (CDs) saw the maximum rate set at 5.75 per cent.
GDP increased by 3.1 per cent over the first nine months of 2013, revealed recent national accounts data – well above Seðlabanki's forecast in November and in line with earlier indications that the labour market was recovering well, said the MPC in a statement.
The MPC also said inflation has cooled once more, but that the exchange rate is still roughly consistent with the bank's forecasts, even though they were slightly higher when the previous meeting took place.
The bank highlighted the fact that when the current wage negotiations are complete, the inflation outlook will change and therefore there will be changes to near-term interest rates. If wages increase more than expected, rates will likely rise too.