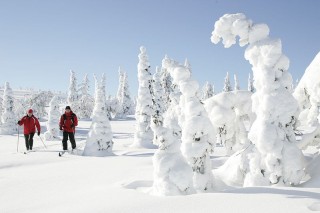 A village in Finland's northwest has broken a 50-year-old record for its November snowfall. The country's meteorologists say that on Tuesday the village of Kilpisjärvi had in excess of 80 cm of snow covering it.
The Finnish Meteorological Institute says this breaks the previous record for November set at Sodankylä more than 50 years ago. Statistical records show that Sodankyla was covered by a relatively shallow 72 cm of snow in November 1961.
Kilpisjärvi is in the country's province of Lapland. The meteorology bureau says the new snowfall record in the village proves that winter is settling in and residents of the region should prepare themselves for it.
Kilpisjärvi is gaining a certain infamy as Finland's snowiest location. Before establishing the new November snowfall record, the village had previously smashed all snowfall depths since records began for the month of December.
The Alaska Dispatch reported that meteorologists measured snow almost 127 cm deep here in December of 1975. Kilpisjärvi also holds the title for the most snow in a month. In April 1997, the total snowfall in the village was measured at a staggering 190 cm.
Kilpisjärvi is in the far north of the country and is on a strip of land sandwiched between the Finnish borders with Sweden and Norway. The stretch of the E8 Europe highway that passes the village is known as Four Winds Road. The moniker gives some idea of the extreme weather conditions Kilpisjärvi endures.