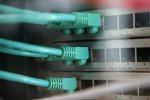 A report just released by the official Icelandic statistics bureau has revealed the country's elders are getting more internet savvy. Statistics Iceland quizzed the nation's elders and found that they spend much more time on the internet than they did 10 years ago.
Back in 2003, 31 per cent of Icelanders between the ages of 65 and 74 years old spent time surfing or browsing with any regularity. The research team also quizzed people then in the 55 to 64 age band which is today's 65 to 74 group. When asked back then if they had been online in the weeks beforehand, only 54 per cent of the respondents replied that they had.
In this era of constantly evolving technology, a decade is a lifetime. The report showed that 79 per cent of the now 65 to 74 year-olds said that they had been on the internet more than once in the last three months.
Although the Statistics Iceland data shows that internet usage among the elderly is on the rise, there are still a significant number that do not use it. A full 20 per cent of Icelanders in the 65 to 74 bracket never use it and a fair proportion of these do not even know how to.
Although Statistics Iceland is the nation's chief data collator it is a body independent of the government and has been so since 2008. The agency gathers and processes data relating to government services and resources, social trends, business and the economy.