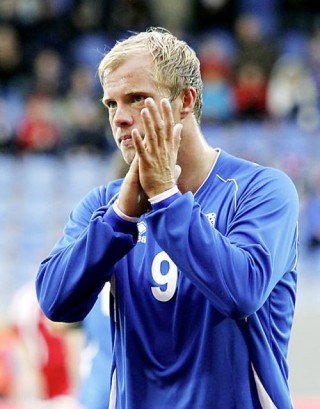 Croatia's national football team beat Iceland in Zagreb on Tuesday and consigned the island nation's hopes of reaching the 2014 World Cup finals to history and marked an end to the international career of the team's most valued player Eiður Smári Guðjohnsen.
Iceland fought valiantly to keep their hopes alive but after the match, Guðjohnsen conceded that Croatia triumphed because they were more experienced and more skillful.
The veteran striker said that despite not booking a ticket to Brazil for next year's finals, the Icelandic squad could be proud of their performance in the campaign. Defender Ragnar Sigurðsson echoed his teammate's sentiments and said Croatia earned the win and the right to go to Brazil.
After the defeat, Guðjohnsen announced on Iceland national TV channel RÚV that the evening's game was his last with the national team. This emotional announcement was delivered by a tearful Guðjohnsen who has been in the team since 1996 seeing them through their highs and lows. Icelandic football fans showed their gratitude through the Facebook group Takk fyrir okkur Eiður Smári (e. Thanks for everything, Eiður Smári).  
Guðjohnsen's career with Iceland's national team began with a friendly game against Estonia in 1996, played alongside his footballer father Arnór. Through the years, the striker has made 77 appearances in Iceland's blue jersey, scoring a total of 27 goals.
While he is currently playing in the Belgian league for Club Brugge, Guðjohnsen's league career won him titles in the Netherlands, Spain and England and made him the first (and only) Icelander to win the Champions League with Barcelona in 2009.
Iceland might have stood a chance of winning when Croatian striker Dario Mandzukic was handed a red card and the hosts were reduced to 10 men. After Mandzukic left the field, Croatia closed ranks and Ragnar Sigurðsson said Iceland had no space to play in.
Mandzukic had scored the first goal in the 27th minute with a well taken shot before being sent off a few minutes later for a reckless challenge on Jóhann Guðmundsson. The sending off did not seem to worry Croatia and they kept the pressure up. This paid off two minutes after halftime when captain Darijo Srna converted the side's second goal and put the end result beyond doubt.
Tuesday's match at Zagreb's Maksimir Stadium was the return leg of the two-match World Cup qualifier. The first leg saw Iceland held to a 0-0 draw in Reykjavik. Hopes were high in Iceland that the World Cup minnows would be attending the finals for the first time in the team's history.