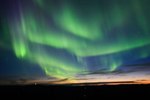 There has been an increase in Northern Lights activity in Iceland this year due to intensifying solar flare discharge caused by the Solar Maximum – a period when the sun's magnetic field on the solar equator rotates at a slightly faster pace than at the solar poles.
Scientists have predicted that this strong activity will continue throughout the 2013/14 winter months, displaying the brightest Aurora levels for 50 years.
The Northern Lights occur most frequently in the Polar Regions, centered within a 2500 km radius of the geomagnetic pole. Due to this, Iceland's location – just below the Arctic Circle – is proving to be the perfect destination to experience the natural phenomenon.
With the increased Northern Lights activity, tour providers have seen an increase in Northern Light tour bookings as the influx of tourists flock to see the dancing lights in the sky.
In addition, Budget Car Rental's Iceland branch recently reported a dramatic rise in the number of people renting vehicles at what is generally considered the off-peak season. Many claim that self drive tours are an ideal way to see the Northern Lights due to freedom and flexibility that they provide.