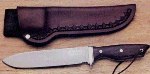 Staff at a hospital in southeast Sweden called in riot police to deal with an elderly man who was running amok with two knives earlier this week. Four police officers with riot-shields attended the incident at a hospital in the town of Kalmar in which a 95-year-old patient was waving the knives around.
Witnesses to the event at the hospital told media writers that the man suddenly appeared waving two kitchen knives. They said he then began threatening both patients and staff with them.
The man then held one of the knives to the chest of another patient who was on the same ward as him. The witnesses said staff then tried to keep the knifeman in the ward until the police squad arrived.
When the police officers entered the ward, the pensioner tried to hurl his weapons at them. The officers used their shields to ward off the knives before using pepper spray to disable their assailant.
One of the witnesses said the confrontation lasted at least two hours. According to the Local, Kalmar police spokesperson Eva Jirhall stated that the officers were forced into using their shields and the spray to ensure they were not injured by the pensioner.
Police say the elderly knifeman has been taken into care by health authorities and is looking at charges of vandalism and attempting to cause grievous bodily harm. The other patient was only slightly injured and is believed to be recovering nicely.