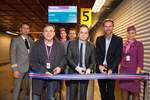 WOW air's first flight since it was awarded the Air Operator's Certificate (AOC) by the Icelandic Transport Authority left for Copenhagen yesterday morning at 7:15 from Iceland's Keflavík International Airport.
There was a formal ceremony at the airport with Skúli Mogensen, founder and CEO of WOW air; Björn Ingi Knútsson, COO of WOW air; and Hlynur Sigurðsson, Director of Terminal Operations at Keflavik Airport, cutting the ribbon at the departure gate before boarding.
The aeroplane bared the official aircraft registration mark of TF-WOW and, as is traditional when an airline introduces a new aircraft, fire engines sprayed jets of water on either side of the aeroplane, creating an arch of water that it passed through before making its first departure.
The AOC gives WOW air control over all operations, which means it will not have to depend on any other airline operators; it has been 30 years since a passenger airline in Iceland has been awarded the certificate.
In charge of yesterday's flight were Ingólfur Einarsson, captain; Sighvatur Bjarnason, pilot; Erla Björg Hafsteinsdóttir, first flight attendant; and the cabin crew, Andrea Sif Don, Agnes Eva Sigurðardóttir, and Tryggvi Rafnsson.