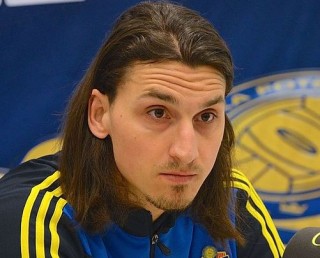 It would be hard to find any footballer on the planet more self-assured than Cristiano Ronaldo or Zlatan Ibrahimovic, but one of the superstars is going to have his ego dented next month after Sweden and Portugal were drawn to face each other in the playoffs for next summer's World Cup in Brazil.
In the pick of the draw, which was made in Geneva on Monday, Erik Hamren's men will travel to Portugal on Friday, 15 November before staging the home leg in Sweden four days later. The teams have yet to confirm the venues for the fixture.
Portugal manager Paulo Bento said he expects the two games to be complicated and relatively balanced. He acknowledged that in Ibrahimovic they have one of the world's outstanding strikers, but he also noted that their other quality is their collective spirit.
This game could be billed as Northern Europe against Southern Europe or Scandinavia versus Iberia but, in reality, it will be Ibrahimovic and Ronaldo who are all the talk over the coming weeks as two of the most outspoken, self-assured footballers go head to head in the winner-takes-all playoff.
Ibrahimovic, who once said of an opponent (Norway's John Carew) after he was criticized "What he can do with a football, I can do with an orange", and Ronaldo, who has claimed fans boo him because he is "handsome, rich and a great player", will carry the hopes and dreams of their respective nations on what are likely to be two nerve-racking November nights.
Sweden will be looking to qualify for their first World Cup since 2006 in Germany, while Portugal will hope to improve on their second-round exit to Spain in South Africa four years ago in a tournament where, in truth, they flattered to deceive before going out to the eventual winners.
A watching world will be glued to TVs next month to see which of the two mercurial talents will prosper and who will fail, but one thing is already for sure: the World Cup in Brazil will be starved one of the world's truly great footballers.