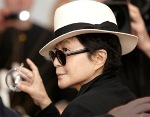 The Icelandic capital Reykjavik has made Yoko Ono an honorary citizen in recognition of her "work" to promote world peace. The widow of John Lennon received the award from the city's mayor, Jón Gnarr, at a ceremony in Reykjavik on what would have been the former Beatle's 73rd birthday last Wednesday.
Upon being presented with the honorary citizenship, Ono said it was a great honour to receive the award and gives her extra encouragement to continue her efforts for world peace.
The artist/singer went on to say that she and Lennon believed in Nutopia, which meant everyone is a citizen of the world. She said inside this world, the land of our hearts which shines with warmth, beauty and truth exists, adding that when she visits this land she is reminded of the most essential things in life.
In 2007, Ono launched the Imagine Peace Tower memorial in the Icelandic capital, making the city the central location for her world peace campaign.
Gnarr said that Ono's work has "pointed the light of peace on Reykjavik" and, therefore, it is an honour to make her an honorary citizen of the city. He noted that her contribution towards human rights and peace is unique, adding that the Imagine Peace Tower has been incredibly valuable for Reykjavik.